"Discover How To Get Sales On Autopilot With
This New Hands-Free Way Of Getting Thousands Of High Quality Visitors From The Very Best Converting Traffic Exchanges And Advertising Networks For Only A Fraction Of Their Prices -- Guaranteed!"
From: Darren Olander, CEO
There are thousands upon thousands of different traffic exchanges and advertising networks.
That's a conservative estimate.
Understandably, it can be an overwhelming task trying to get your site out there - especially with all the options available.
A lot of questions and issues come to mind while looking for the right places to advertise:
| | |
| --- | --- |
| | You need to find out where you can get the best 'bang' for your buck. |
| | You have to register at each individual site and then read up on the site to learn how to use it properly, which can be very time-consuming.. especially if you don't even know if it will be effective in the end! |
| | You have to test and track different pages and sites to learn where your results are coming from so you can spend more advertising there and cut off the places that aren't bringing you results. |
| | With some sites, You may have to work many hours before you see any type of results. |
| | Even worse, you may have a gazillion traffic credits but the site has extremely slow delivery so it would take months or years before that traffic is delivered. |
Basically, we all want to advertise our sites at the places we will see RESULTS... and we want to get those results as cheaply, quickly, and lazily as possible!
There is nothing wrong with that.
The problem is...
With So Many Different Advertising Options Out There, It Is Getting Increasingly Difficult To Find The Most Effective Advertising Sites Among The Sea Of Duds.
With that in mind, it is quite clear why so many people spend years trying to get traffic to their websites and still struggle to this day to get enough traffic or the results they need.
A lot of sites will even take your hard-earned money and send you totally untargeted traffic in return... because you could have all the traffic in the world but if the visitors have no interest in what you are offering they will not buy - and that means zero results for you.
Not me.
My success has always come from helping others to become successful. If you buy traffic from me once, get no results, and move on... there is no satisfaction in that for me, and quite frankly, very little money.
BUT, if you buy traffic from me and receive results... you will come back and purchase over and over again. That is a win-win relationship, and that's how I do business.
Viral Traffic Co-op Fills Your Need For High Quality Traffic You Can Rely On, At A Price That Just Can't Be Beat... By Anyone.
Look at it like this...
Viral Traffic Coop takes all of the negatives you read above, and makes them non-existent... plus puts icing on the cake.
| | |
| --- | --- |
| | I make special private deals with owners of traffic exchanges and advertising networks and then buy that traffic in bulk at prices WAY lower than what they offer for sale on their site... I pass those savings on to you so YOU get the same traffic but even cheaper than what they sell it for. |
| | With Viral Traffic Co-Op, All you have to do is purchase the quantity of co-op packages you would like (starting as low as $25), provide the URL, and then watch as thousands of targeted visitors flock to your site! You can easily manage all of your campaigns from one location - your Viral Traffic Co-op members area. |
| | I am constantly testing and tracking my results with all the different traffic exchanges and advertising networks... and ONLY the best performing ones are used in the co-op... so you get traffic from only the highest quality sites. I weigh the odds to help you get the best 'bang' for your buck! |
| | Each month I pull together all funds allocated towards the co-op and get the best deal I possibly can on traffic... all the sites submitted and approved enter a rotator and then I assign the traffic to that rotator. Each co-op package you purchase will get you thousands of high quality visitors (depending on the deals I get for that month) and the campaign will last one month. Reorder each month to always have an active campaign... or not, up to you - there is no forced subscription! |
| | I will personally review your websites landing page and give it a 'quality score' according to how well I believe it will perform, if I give your site a poor quality score you have the opportunity to change it before your campaign starts. I will even provide tips on how to improve your results! |
I want you to be extremely happy with the Viral Traffic Co-op so that you will remain a long-term happy customer.
Give it a try for as little as $25 and receive thousands of quality visitors. Just create your free account first by filling out the form below...
| | |
| --- | --- |
| | Yes Darren! Let Me Create A Free Account To Learn More About The Traffic Co-op Packages! |
Simply complete the short form below to create your membership.
Then, you will be able to purchase any traffic packages from your members area!

Your Sponsor:
Your information is private and will never be shared.
We respect your privacy and hate SPAM with a passion.

To Your Online Success,

Darren Olander, CEO
P.S. - In the members area I will talk about message to market match and you will be able to decide if this is right for you... straight off though, if you are promoting any make money type programs or business opportunites, internet marketing information products, or traffic programs then this is PERFECT for you!
P.P.S. - You may be wondering where the 'Viral' comes in from the name Viral Traffic Co-op. That is actually quite a unique feature to the site!
As your websites are rotated in the traffic co-op there is a very thin 'viral bar' displayed at the bottom of the page that your visitors will see. It is unobtrusive but very effective because on this bar is YOUR affiliate link for Viral Traffic Co-op. If the visitor clicks on it then they will visit the Viral Traffic Co-op website through your affiliate link and you will earn $5 commissions from each and every traffic package that they buy!
Just as an example: If they buy $100 worth of co-op packages you earn $20! The great thing about this is.. it is done on autopilot without you setting anything up... and gives you the opportunity to earn commissions from us!
Here is what the Viral Bar looks like (your site on top, thin viral bar on bottom):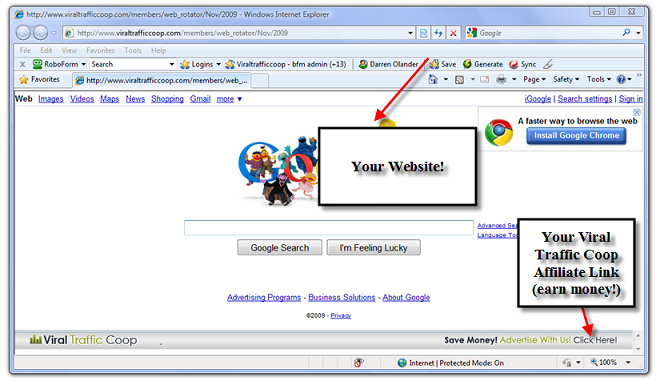 P.P.P.S. - Remember, you can't get a better deal on traffic exchange and advertising network traffic anywhere else... give it a try and register now!